The suicide rate for veterans can reach 22 per day on average. Yoga and mediation can greatly reduce this suicide rate. Fortunately, there are local volunteer organizations that provide support for our heroes. I am fortunate to provide my photography skills to one such organization.
Earlier this year, I volunteered to provide photography for The Warrior Spirit Project. They provide free yoga and meditation for veterans and first responders. Charla and David's mission is to: 
help restore the soul and strengthen the spirit of veterans and first responders through Yoga, Dogs, and Dirt…
It started out as helping capture images for their website and social media.  The website is still in progress, as summer has been a very busy time for the advisory board. However, several great things have come from this.
Last month,  Warriors at Ease chose Warrior Spirit Project as one of their Giving Days beneficiaries to help train more volunteer yoga teachers. They asked for 2 images of Charla and David doing various Warrior Poses to share on social media.
Concept Planning 
We discussed that these were not supposed to be perfect yoga pose shots.  The idea that "it's ok not to be perfect" was needed.  No judgement.  I have not done yoga in many years and fortunately do not feel intimidated doing yoga with WSP.  Well, ok…maybe a little.  But wasn't this the exact thing we needed to show?  That this is for anyone.  And it's a safe place to feel a bit uncomfortable.  A place to heal.
We discussed using an open air space to give a feeling of strength, openness and nature. We discussed the journey from pain to wellness. During the iRest Meditations that accompany most of the yoga classes, the idea of welcoming opposites is brought up and meditated on.  Cool/Warm, Stress/Ease.  We needed to visually show that as well.
Clothing colors should also represent the military and first responders.  Green, tan, black and blue.
After reviewing an initial mood board, Charla and David said they would work on the poses.  I breathed a sigh of relief!
Scouting the Location
OK, now to find a location.  In addition to the concept requirements, I needed to find a space large and flat enough for 2 people doing yoga, an assistant with a reflector and a photographer.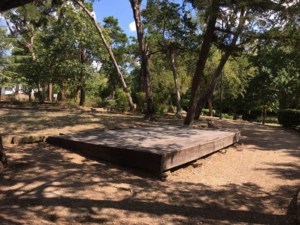 We have several parks in our neighborhood, so I had some good ideas for a spot. This one turned out to be perfect.  Sadly, there were houses in the background on one side, but the other three had great views to support our concept.
Charla and David were not available until 3:30, but that was perfect for what I had in mind.  Dappled sunlight.  Light and Shadow. Opposites.  However, we were going to have to move fast. We only had about 30 minutes to get the shots before the sun descended below the tree line and the dappled light would be gone.
Shoot Day
I got there about thirty minutes early just to make sure the area was vacant and clean from any debris. I also scouted a few other places in the park hoping we would have enough time to tack on a fe more shots. Even though one was not technically Couples Warrior, I felt we could use it as part of the WSP library.  Charla, David and Robert were right on time and we quickly moved into place. Charla and David showed me what they had come up with and we began shooting.  Gotta love well prepared talent!  In the end, we were able to give Warriors at Ease six shots to choose from.  All in the correct IG format and ready for them to use.  Three are shown below.